Whenever you check your daily Google Adsense earnings, it is sure you also think about how to increase CPC to earn more? Everyone wants to earn more, that is why we have collected some information so that you can understand how to get high CPC ads. For 100% Working Google Adsense High CPC Ads Tips, keep reading.
100% Working High CPC Ads Tips
Most people create a website to earn money from, Adsense, affiliate marketing, products etc. But most of them want to earn from AdSense. And in order to earn more from Google Adsense, a high CPC is must. That is why we recommend you to go through this whole article, and ensure to focus on the main headlines.
Choose a High CPC Niche
To earn from AdSense, it will be good to choose a High CPC Niche. It is necessary in order to receive impressions of high CPC ads on your blog or website.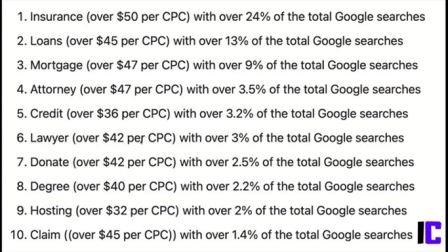 This list shows 10 High CPC Niches that can make you rich if somehow you will manage to rank on the first page of Google with these keywords. But this doesn't mean that you should choose your niche from this list of 10 topics. You should choose a niche according to CPC and your interest so that you can provide interesting content to visitors in that High CPC Niche.
Choose High CPC Keywords
The next most important step is to choose the right keywords according to your niche. Even if you have chosen the High CPC Niche, you may receive less revenue. Because it also depends on the keyword that your article or content focuses.
High CPC Niches also have both types of keywords, Low CPC Keywords and High CPC Keyword. Your focus keyword should also be a High CPC Keyword.
To find such keywords you need to do Keyword Research. You can do that using ahrefs.com, google keyword planner, etc.
Location is Important to Earn More
Sometimes, it is difficult to predict that in which location your article will rank on search engine. It can rank anywhere according to different search engine algorithms.
The amount that you will receive per click will be different according to different locations, somewhere high and somewhere not much high.
But it is sure that if your niche is good and your keyword is also good accordingly then you will be benefited at any cost.
High CPC Niches and keywords will definitely receive High CPC Ads
If you publish content with a proper combo of High CPC Niches and keywords, then no one can stop you to receive High CPC Ads on your website. And Hogh CPC Ads is equals to high earnings.
It is not fixed that you will receive a particular amount of revenue at every click. Sometimes it can be high, moderate, or low. Because fluctuations in earnings from Google Adsence are always there.
Follow Google Recommendations for more benefit
Google always supports creators for growing their platform genuinely. So, we recommend you to follow the suggestions that this platform gives you.
Google Adsense suggests using Auto Ads to increase earnings, so you should do that. Google knows where to place ads in your content so that more visitors interact with that. So leave it to google to manage ads on your website, just focus on creating Relevant Content on High CPC Keywords.
Even if you wish to place ads in your content by yourself, then make sure to do it properly. You should take care of your visitor, you have to place ads in your content according to your visitor's comfort.
Where to place google ads?
Mainly you have to place ads in the Header,  Below your Title and below your First Paragraph. It will be beneficial for you to place advertisements in these places. After making sure that all these main places have your ad code, you can proceed to place ads in other sections of your blog like sidebar, footer, etc.
Check Other Ad Networks' Compatibility with Adsense
If you wish to add multiple Ad Networks on your website and if Adsense is your prime source of income, then only use those ad networks that are compatible with Google Adsense. Because other Ad Networks can harm your earnings with Adsense.
So, Only use other ad networks by ensuring their compatibility with Adsense.
If you have gone through our complete article, we are sure you will never regret about earnings. And you will definitely receive high earnings. Hope we have cleared your queries, leave your reviews in the comment box, and do share this article with your colleagues.
Keep Growing!