The Web page ranking in search results is, very beneficial, that's why we always try to rank higher in search results. But to rank higher in search results, we need to track our web page ranking. Without tracking rankings, we can't calculate "how much effort or work is needed to rank higher?". Here in this post, I have mentioned some tools that are going to help you in a great way.To track web page ranking, we need to check SERPs. Search engine result pages are the pages created by a search engine while accessing your query. These pages rank well search engine optimised pages, higher and less search engine optimised pages, lower. One of the known search engines is "Google". In this post, I have taken google to explain "how to track web page rankings on Google?".
How to track web page ranking on Google?
Whenever we need to check page rank, we start skimming search results in the SERPs. We try to find our web page as a result in the SERPs. But you know, that some tools can do this for you. Skimming SERPs is tough and tiring work. That's why we recommend you to use the web applications given below:
AccuRanker is a SERP Checker tool, that is free and fast SERP checking application. This allows you to get an accurate web page ranking, along with specific SERP results. Interacting with this web application is really easy, you just have to fill some details.
This application asks you for a Keyword, a country for which you want to check your web page rank. It also provides a feature for checking web page ranking for a particular location in any country. This feature helps SEO experts to track their web page rank for a local search keyword.
AccuRanker SERP Checker
Pros
Provides page rankings for different countries.
Web page ranks for a local search keyword (like local city keyword).
Different SERP results for Mobile and Desktop.
Cons
Up to five free searches per day.
Cannot provide ranks for a particular domain.
WhatsMySerp
is a SERP checker to analyze SERP's.
You can use it to check your website rank in the Google search results. This allows you to check the top 100 pages, that are ranking in SERP's.
It also provides a feature to track ranks for web pages of a particular domain. But only if your web page comes under top 100 results.
As we know, Google Search Results vary according to geo locations, mobile results, desktop results and etc.
factors.
For that reason,
it is very
essential
to regularly check page rank for mobile, desktop and for different locations, if the targeted keyword is local.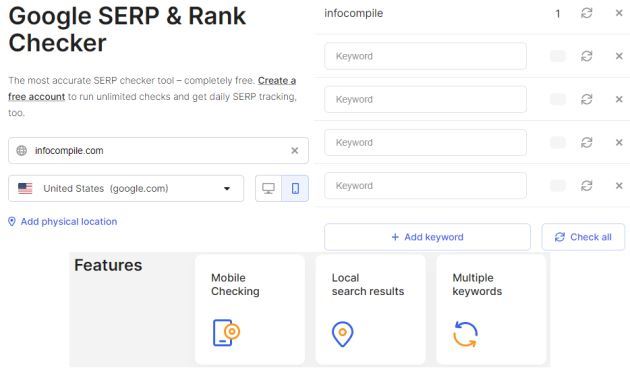 WhatsMySerp – Web Page Ranking
Web pages can be tracked for multiple keywords.
Directly find ranks of webpages without manual skimming process.
Different SERP results for different countries.
Local Search results.
Allows checking Mobile and Desktop SERPs.
Cons
Only 10 Free SERP Checks per day.
For unlimited SERP Checks, a free registration is necessary.
SERPChecker
delivers a valuable analysis of a keyword, web page and website. Means it is something more than a web page tracker or page rank finder. But here we are only talking about web page ranking, so, according to that point of view, SERP Checker may be the right choice. But there is a disadvantage of this product, it is not available without a subscription. Its services will be available for 10 days of the free trial.
But even in the free trial period, it will only allow 5 lookups per day.
In consequence, you can take a free trial of this product and accordingly have a subscription later.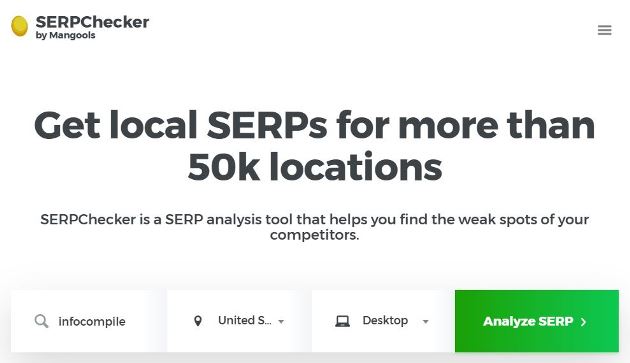 Pros
Country-based web page rank analysis.

Local SERPs for more than 50k locations.

Mobile/Desktop SERPs analysis.
Cons
Services not available without free trial registration.
Only 5 lookups per day in the free trial.
Subscription needed for full access.
Also Visit: Free Advertisement at InfoCompile | Free Business Advertising
SERPROBOT maintains a simple interface and offers all main SERP Checking features. Top 100 results of the SERPs can be tracked on this web application. It allows you to check SERPs for 10 different keywords at a single moment time. You can track your web page ranking across all countries. SERPROBOT supports domain-based tracking and URL based checking too.
SERPROBOT – Check Page Rank on Google
Pros
Searches ranks for Up to 10 Keywords.
URL Based rank detection.
Unlimited SERP Checking without demanding personal details.
Cons
Local area search results can not be tracked.
No Mobile SERP analysis.
We are constantly updating our data and we will add some more SERP Checkers in this list. But in these four Web Page Ranking tracker, I found WhatsMySERP and SERPROBOT as most convenient and free tools.

Also Visit: Try our Free Business Advertisement